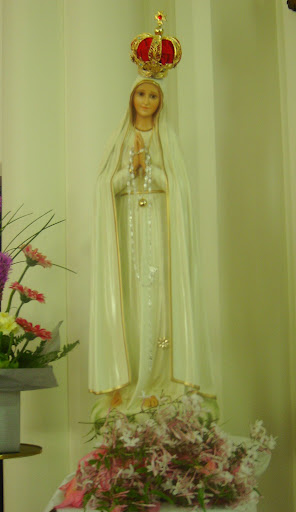 On the 90th anniversary of Our Lady's apparitions at Fatima, the Wangaratta Latin Mass Society hosted a Rosary Procession and Mass in Honor of the historic event.
With the Procession beginning at Our Lady's Catholic Church and making it's way down Murdoch Rd toward Delaney Chapel on the grounds of St. Patrick's, the large group of the Faithful Prayed the Rosary and sung hymns while a Statue of Our Lady of Fatima was carried by the younger members of the procession.
In what was an emotional occasion, Mass was offered in the Extraordinary Form (Traditional Latin Mass) by Fr. Leo Hynes. It was also the first time Mass was offered in the Extraordinary form since Bishop Joseph Grech gave approval for the Wangaratta Latin Mass Society to base itself at Delaney Chapel and also the first time the Extraordinary Form was celebrated since the Motu Propio of Pope Benedict XVI, Summorum Pontificum, came into effect on September 14th of this year.
The Wangaratta Latin Mass Society would like to thank Fr. Leo Hynes for Offering the Mass and also Msgr. John White, PP of St. Patrick's, both were very helpful in ensuring the success of the Procession and the beauty of the Mass.
The faithful, which numbered around 50, look forward to assisting at more Masses using the Extraordinary Form in the very near future.